Student Awardees
---
The WDA Graduate Student Research Recognition Award (SRRA) is awarded annually to the student judged to have the best research project in the field of wildlife health or disease. The winner is the keynote speaker during the student presentation session at the annual International WDA conference and receives funds to cover their conference attendance. The WDA SRRA winners from 2020 and 2021 are presenting at this year's conference.

Dr. Elliot Chiu was awarded the WDA SRRA in 2020 for his research project entitled "Feline leukemia virus (FeLV): an emerging threat to wild felids without protection from endogenous feline leukemia virus (enFeLV)". Elliott Chiu has always had an interest in the conservation of wildlife since he began working as a docent at a zoo from the age of 12. He obtained a BS in biology and an MS in Environmental Science from Drexel University. He completed his Doctor of Veterinary Medicine and has a PhD in Microbiology, Immunology, and Pathology from Colorado State University. Beginning August 2021, he started his anatomic pathology residency training at UC Davis and the San Diego Zoo. His career goals are to use his infectious disease research and anatomic pathology training to tackle problems related to wildlife conservation of threatened species.
Dr. Marie Gilbertson was awarded the WDA SRRA in 2021 for her research project entitled: An apathogenic virus predicts transmission dynamics of a pathogen and reveals paradoxes and synergies in pathogen management in the Florida panther (Puma concolor coryi)". Dr. Marie Gilbertson, DVM, PhD recently completed her graduate degree at the University of Minnesota investigating use of an apathogenic virus to predict transmission dynamics of a pathogen and reveal paradoxes and synergies in pathogen management in the Florida panther (Puma concolor coryi). This work integrated data and methods across virology, epidemiology, wildlife management, veterinary medicine and disease ecology to inform pathogen management and conservation of Florida panthers, with potential applications for improving animal health across species and systems. She is currently a Postdoctoral Researcher at the University of Wisconsin-Madison, where she is studying white-tailed deer movement ecology and chronic wasting disease transmission with Dr. Wendy Turner.
The 2021 Wildlife Disease Association-International Association of Aquatic Animal Medicines joint award is awarded for the best aquatic animal manuscript published by a student in JWD in 2020.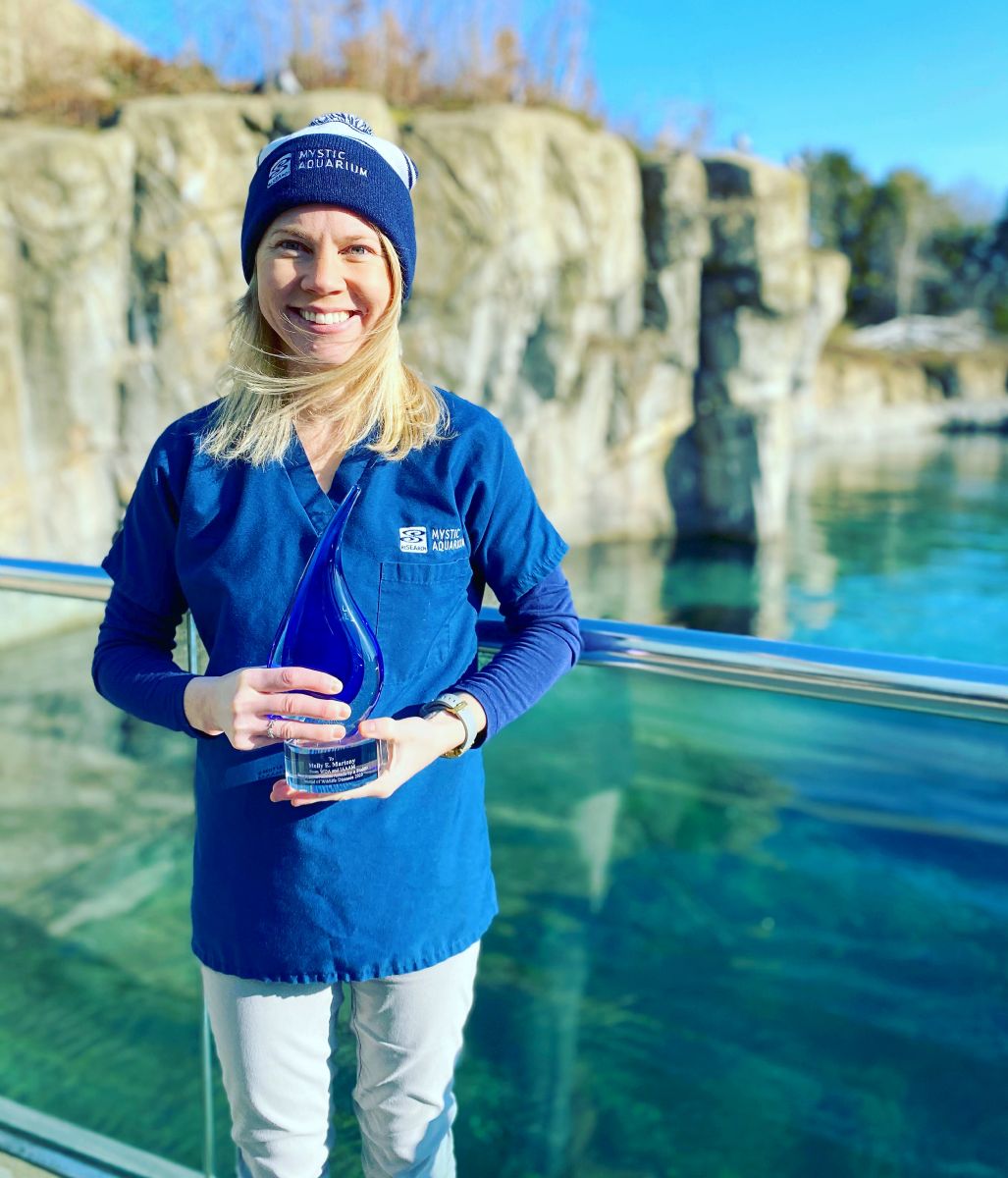 Dr. Molly Martony, was awarded the WDA-IAAAM joint award in 2021 for her paper entitled "Esophageal measurement of core body temperature in the Florida manatee (Trichechus manatus latirostris)" published in the January 2020 edition, Volume 56(1): 27-33. Dr. Martony attained her veterinary degree from Western University of Health Sciences in California. She then completed a small animal rotating internship and the aquatic animal medicine internship at SeaWorld San Diego and the National Marine Mammal Foundation. She was an Associate Veterinarian at Gulf World Marine Park prior to completing the Aquatic Animal Medicine Residency through the University of Florida. Dr. Martony is a board-certified specialist in aquatic and zoological medicine by the American College of Zoological Medicine. Dr. Martony is currently an Associate Veterinarian at Mystic Aquarium in Connecticut. Dr. Martony will be presenting her work at this year's conference.